Posted by Tiffanie Wichman on Nov 22nd 2014
Its that time of the year again; summer breeze through your hair, cool drinks down your throat, and hungry fish out on the lake. Whether you live on a clear glossy mountain lake, or on the breezy seashore, there are bound to be boats around. No one could argue that they are the best toy to own for the summer season. What goes well with boats besides the good fishing and the endless water sports? LED lights! Have a party on the boat, fish at night, or decorate for a boating event. Why do we suggest using LED lights for your boat? They typically last longer than 10 years, proven to be waterproof/water resistant, and are available in multiple colors. For those avid fishermen out there; some truly believe that fish are attracted to light. Discover 3 simple ways to use LED lighting for your boat below. Underwater: Certain types of LED lights such as LED Strip Lights are waterproof and submersible, allowing them to be placed toward the bottom of your boat. The picture above does a wonderful job showing the stunning light that shines through the water at night. Don't worry if the light that you choose isn't rated to be waterproof or water resistant, because there are many casings that are compatible with the light that would allow it to be immersed in the water without causing any damage. It is very easy to add underwater lights to your boat.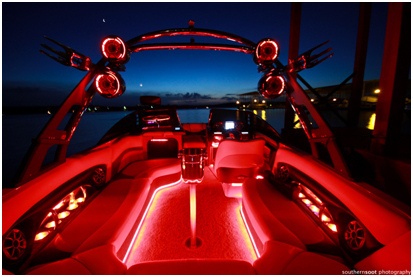 Interior: We would suggest using our RGB Brilliant Brand LED Strip Light for the interior of your boat. It easily hooks up to a 12volt battery and is also rated to be waterproof, so you don't have to worry about getting water in the boat while you are splashing and playing around. The sticky adhesive back and flexible feature will allow you to customize where you place the light in your boat. Have fun and be creative with the eight thousand different color options that have effects such as strobe lights.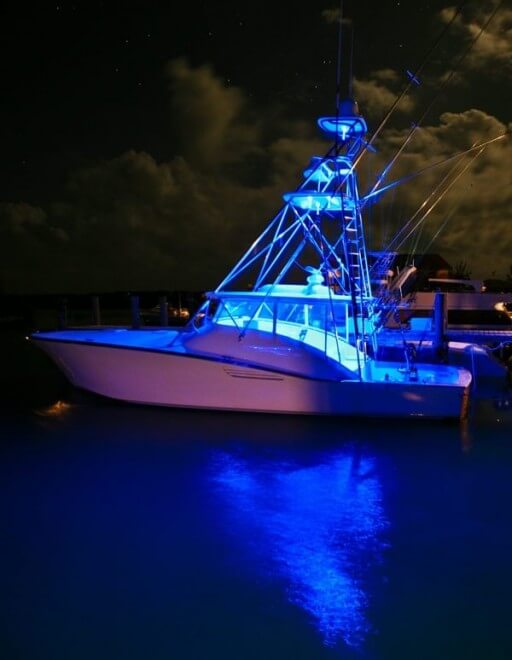 Exterior: Don't let the night sky scare you away from that pristine calm water. LED lights are a great addition to the exterior part of your boat allowing for better visibility at night. Now it will be much easier to go night time swimming or just simply relax with friends. The light can be situated and directed towards the direction of your choice for easy navigation as well, while you are roaming the dark waters. What other LED boat lighting ideas do you have? Send us pictures and your ideas to support@birddogdistributing.com or leave a comment below.