LED Strip Lights from Birddog Lighting put the spotlight on fun. Create pro-level designs indoors and out with our flexible, easy-to-use strip lights that work almost anywhere. Light up your home interior, your patio, your vehicle or an event space with colorful, bright LED strip lights.
Here are answers to all your questions about how to use LED strip lights to add a little glow-up to your life.
How Do LED Strip Lights Work?
LED strip lights are long, flexible strips of durable printed circuit board (PCB) onto which surface mounted devices (in this case diodes) (SMDs) are directly attached. They are then encased in a UV-resistant PVC coating. These strips are easy to install in both indoor and outdoor settings, and they are flexible enough to wrap around pillars and conform to most shapes. They are available in 12-volt, 24-volt, and 120-volt options, which differ in the maximum length for a single run.
Our 12-volt LED strip lights come in an assortment of super-bright colors of 16.4-foot lengths with double-sided sticky tape backing for incredibly easy use in cars and other vehicles that have a 12-volt DC power source. The 120-volt LED strip lights bring you even more options with more single-color choices, red-green-blue (RGB) color-changing options and flexible LED grow lights that keep both you and your plants happy. These LED strip lights plug directly into a wall outlet and are easy to install using PVC plastic track or PVC clips.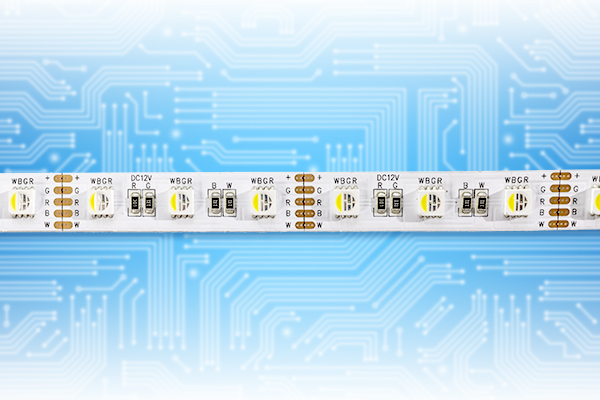 Can You Cut LED Strip Lights?
Yes! Both our 12-volt and 120-volt LED strip light options are clearly marked for cutting at regular intervals. Cut our 12-volt strip lights every two or four inches, and the 120-volt strip lights at 19.5-inch intervals. Each LED strip light you purchase from Birddog Lighting includes an appropriate power cord and end cap for that strip's full run, but if you cut them — thereby creating multiple runs of shorter lengths — you'll need an additional power cord and end cap for each cut strip you use.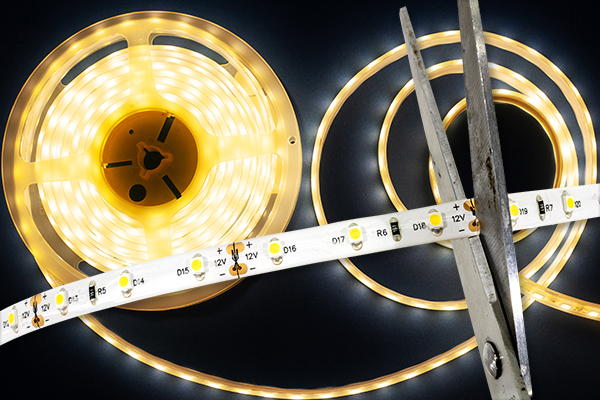 Are LED Strip Lights Safe?
Yes! LED lights emit far less heat than incandescent lights do, so they stay warm to the touch and aren't likely to ignite curtains or burn curious fingertips. Additionally, LED lights contain none of the mercury found in incandescent bulbs, so there's no risk of exposure to that dangerous chemical if an LED bulb breaks or is ultimately tossed into a landfill. Both these factors mean that LED strip lights are safer to handle, install and dispose of than incandescent lights.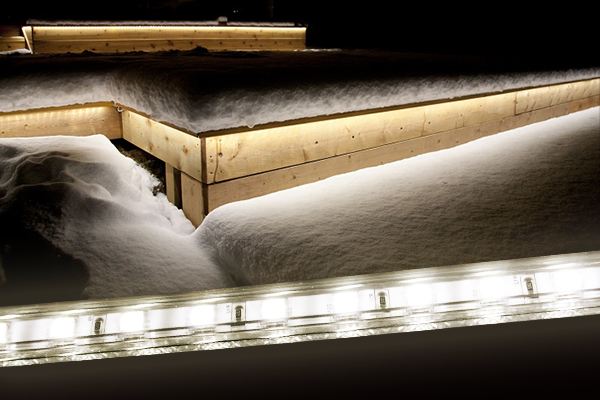 Are LED Strip Lights Enough to Light a Room?
Yes, although this depends on how and where you use them. Our LED strip lights are comprised of surface mounted diodes that are brighter than the older capsule-style LEDs in many rope light options. Our LED light strips are also directional, meaning they only emit light in one direction, so energy isn't wasted by shining backward onto the surface the strips are mounted on.
The beam angle of our 120-volt LED light strips is 120 degrees, meaning this very bright light covers a wide area. Our SMD 5050 LEDs produce the brightest light available in any linear lighting technology, so installing those all the way around a ceiling offers a great deal of light. That said, one two-foot length of SMD 3528 LED strip lights in a shelving unit may not be sufficient for the entire room. Keep in mind that our LED strip lights are dimmable too, so if you find them too bright, you can always take it down a notch.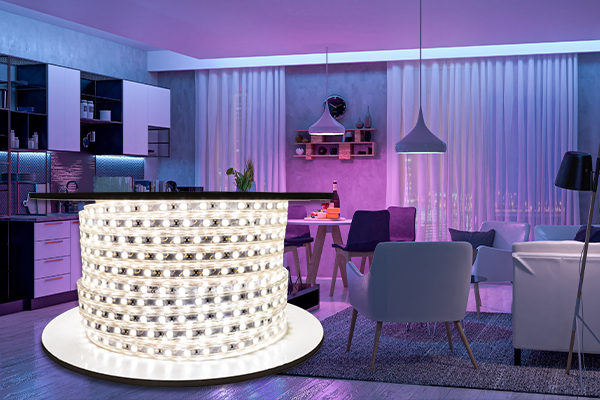 What are the Best LED Strip Lights?
This really depends on the application you have in mind. Our 12-volt LED Strip Lights can light up your RV or car's interior for a cool festive road trip. For decking out your patio or other outdoor space where a longer run is required, you'll probably prefer our 120-volt LED strip lights with an IP44 weather resistance rating.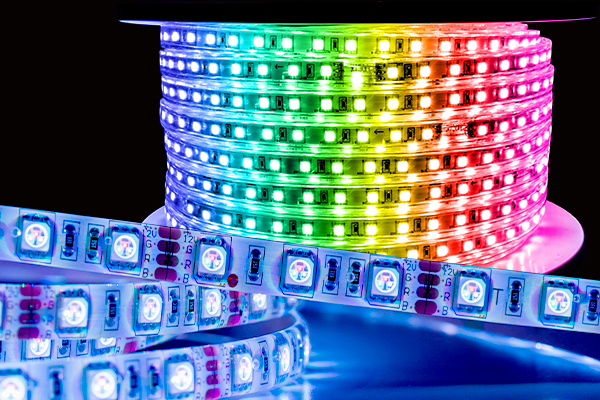 How to Use LED Strip Lights
Use
12-volt LED Strip Lights
to:
Deck your boat or RV for a festive look
Highlight landscaping
Enhance shelving or achieve task lighting under cabinets
Illuminate indoor or outdoor stairs for safety
Add lighting in closets, attics or other areas that are difficult to light
Create modern backlighting in a home theater or office
Use
120-volt LED Strip Lights
to:
Light up your patio or deck for brilliant outdoor entertaining
Create large-scale light installations for weddings, graduations, and other events
Personalize the lighting in your home gym or pool area
Add colored lighting to indoor or outdoor spaces for holidays or special occasions
Wrap pillars, light poles, banisters and more with flexible, fun lights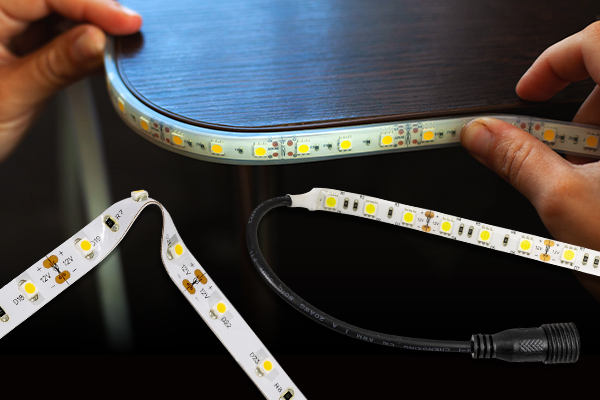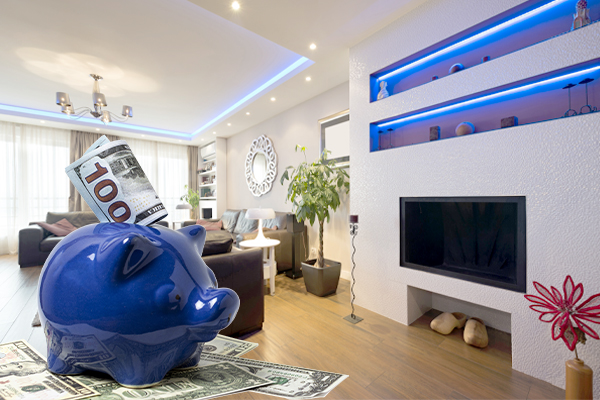 How Much Do LED Strip Lights Cost?
The 12-volt LED strip lights at Birddog Lighting start under $40, and our LED grow lights start under $22. But as with any kind of lighting, the initial purchase price is only one part of its overall cost. LED lights consume far less energy than incandescent bulbs to produce just as bright or even brighter light — which means your utility costs will be a lot lower for operating LED lights over time. And speaking of time, LED bulbs have a much longer lifespan than incandescent bulbs, so you'll end up replacing LED bulbs much less often. All this adds up to paying less for LED lighting in the long run while getting incredibly bright, colorful lights every day. Plus, with Birddog Lighting, you get the advantage of tax-free purchases from our home state of Montana.