Celebrate your favorite holiday in style with a light-up motif from Birddog Lighting. Our wide selection of 120 volt and low voltage pre-lit silhouettes make it easy to create a stunning outdoor holiday display. Whether you're celebrating Christmas, Halloween or the winter season, you'll love our selection of attractive light-up displays. Best of all, our illuminated decorations are priced low, so you can celebrate all of your favorite holidays without breaking the bank.
Why Choose Lighted Motifs?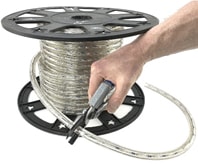 Constructed with LED rope lights
Our newest lighted motifs are constructed using either
LED rope lights
or
LED Neon rope lights
which provides an even and consistent lighted outline. The silhouette effect from each unique design is bold and beautiful. LED motifs will also save you money on energy costs and last longer than incandescent rope lights.
Durable lightweight frames
The powder coated rigid metal frame used to support the lighting on each motif is lightweight and durable. Easily hang your special silhouette indoors or outdoors using one of the many mounting options.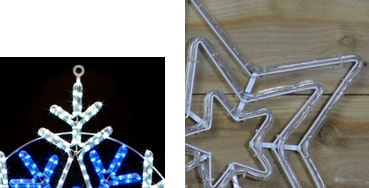 Multiple mounting options
LED Motifs are extremely versatile when it comes to mounting. Use the hanging ring built into the frame, suspend them from above, fix in place with yard stakes, or try one of our motif pole mount kits. Whichever option you choose, you're sure to have your lighting up and running in no time. Please note that not all motifs can be pole mounted.
Hanging Ring Motifs
Pole Mount Motifs
Suspended Motifs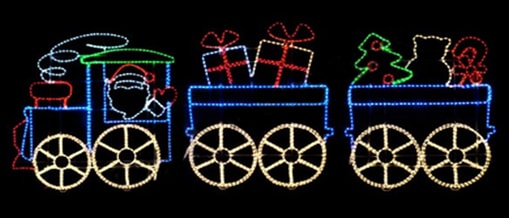 Yard Stake Motifs
Unique Variety
From large LED yard displays to petite battery operated window decorations. Birddog Lighting is sure to have the perfect LED silhouette for you. Make your outdoor Christmas light display the best on the block with a rope light holiday outdoor decoration from Birddog Distributing, Inc. Our Christmas motifs incorporate some of the most beloved symbols of the season including Santa Claus, trees, bells and more. Simply click on the Christmas rope lights category to learn more.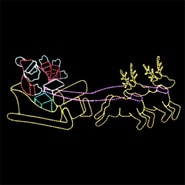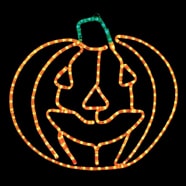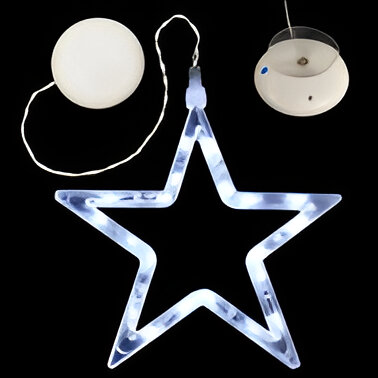 Shop at Birddog Lighting for marvelous Christmas motifs and distinct lighted decorations. You can select from a large variety of detailed Christmas silhouette lights for indoor and outdoor use.
Choose items like a 3-D snowman, a Christmas tree; a Halloween jack o lantern; a 26- or 35-inch snowflake with a hanging ring and indoor/outdoor variable-speed controller; or anything else you're looking for to construct the perfect outdoor lighting display. You can even buy three-foot lighted ornaments or a 16-foot Santa toy train with presents. Decorating your yard and home with these beautiful LED lights, decorations, and silhouettes is sure to improve the look of your Christmas Holiday light display. The rope lights used for these displays are weather resistant, UV protected, and can be user indoors or outdoors.
Other categories include seasonal favorites like snowflake rope light motifs or star rope light motifs. We even carry designs for Halloween and other holidays like Easter, St, Patrick's Day, Valentine's Day, and Mardi Gras. At Birddog Lighting, we know our customers want brilliant light without costly energy bills, which is why many of our holiday motifs are made using energy efficient lights.
Shop at Birddog Lighting today to find the holiday motifs you want at prices you can afford. Our pre-lit displays are easy to install and require virtually no maintenance. Click on any category to explore all your lighting options.