Posted by Joshua Prieto on Nov 17th 2015
Most of us have imagined what our ideal home media room or home theater would look like. My vision has the huge projector screen, plush home theater chairs with the double cup holders, and a home theater sound system that makes your neighbor think a t-rex is coming down the street when you watch the first Jurassic Park. Oh boy! I'm starting drool already. The only thing missing is stellar home theater lighting! It's reasonable to forget about your lighting when designing your dream home theater, but if you really want an out of this world experience each and every time you enjoy your theater, then it's important to make lighting a priority. You may or may not use all five of the following tips, but the key takeaway here is to take time to design your home theater lighting.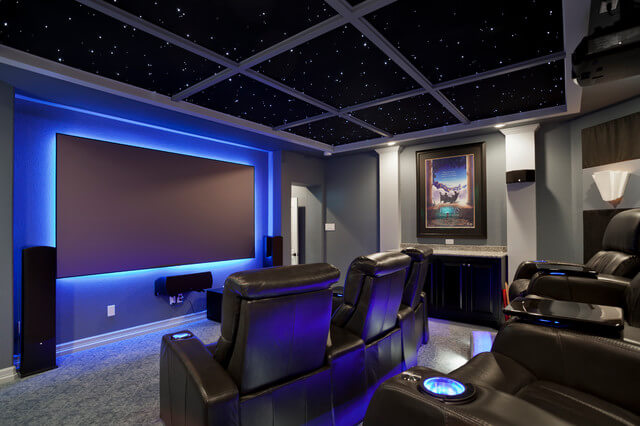 Home Theater Lighting Tip #1: Create Ambient Backlighting
Despite its appearance, ambient backlighting to a TV screen or projector is more than just aesthetically pleasing. The backlighting reduces eyestrain that can happen when watching a long movie or focusing on a bright screen for long periods of time. Adding RGB or color changing rope lights that have an option to fade from one color to another is an additional option for ambient backlight. The color-changing lights when viewing contrast with the bright colors from the TV or projector without distracting the viewer. When you are not watching something the lights give an awesome effect that highlights your home theaters focal point, the screen.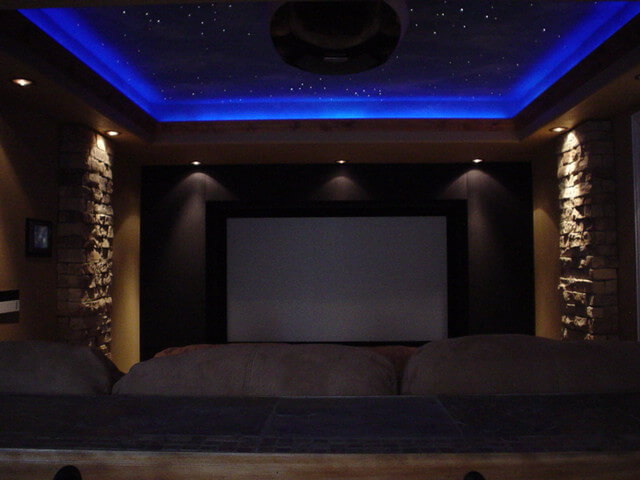 Home Theater Lighting Tip #2: Add Ceiling Cove and Crown Molding Lights
This lighting option can be mostly for looks but it definitely adds some great mood lighting. When used along with high intensity strip lights and dimmers, it also provides most or all the lighting you need to eat your popcorn or quickly run out for a potty break without stubbing a toe. You can also add color changing RGB lights to your ceiling cove and/or crown molding for additional effect. These lights can be synced with your ambient backlighting talked about in Tip #1.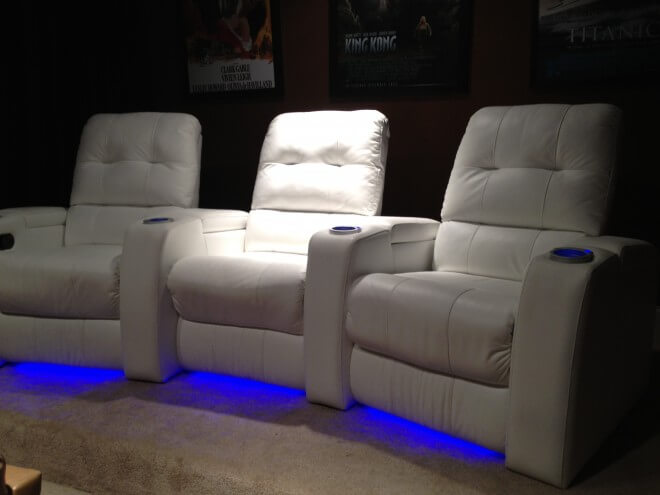 Home Theater Lighting Tip #3: Light Up Your Seating
Installing lights in your home theater seats is just plain cool. You can add some additional light on the bottom of your seating to help direct your feet in the dark or even in the cup holders to make sure your beverages find a safe home. This type home theater lighting may seem excessive or over the top, but if you have extra strip or rope light after installing sealing cove or crown molding lights it is a great way to use up your extra.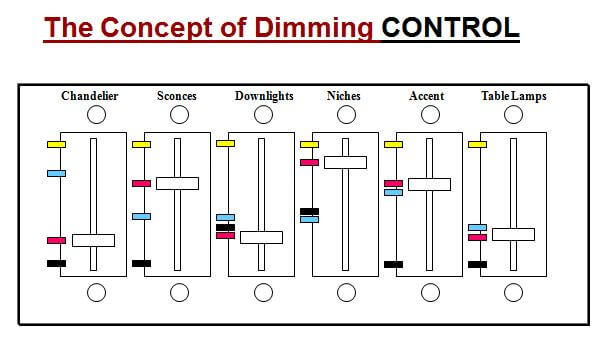 Home Theater Lighting Tip #4: Put Dimmers on It
It goes without saying that having bright lights on while watching a good movie is a mood killer, but it is nice to have a little light while eating your date night treat in your home theater. Dimmers are the way to go if you want to adjust your light for whatever the occasion calls for. You'll not only want to put dimmers on you main overhead lights, but all of your accent lighting as well. I've witnessed a few lighting projects go astray when they didn't consider their ambient lighting levels and later realized they needed dimmers on their lights to adjust it to a comfortable level. Think of purchasing dimmers for all your home theater lights beforehand instead of having to retrofit. If you don't think of dimmers before hand, it almost never happens later.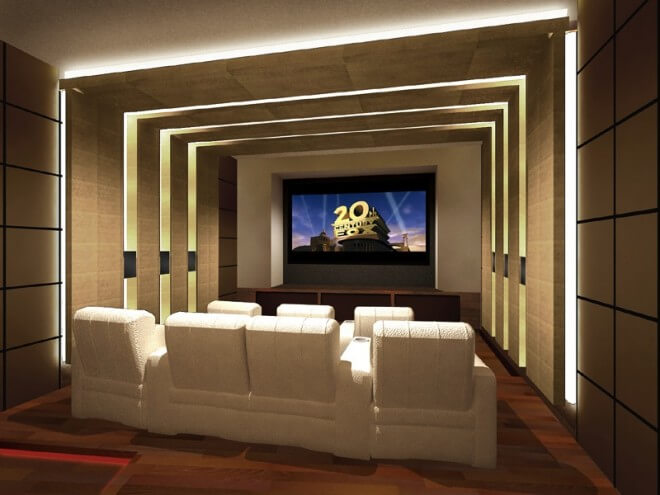 Home Theater Lighting Tip #5: Have a Plan
This tip goes for all large lighting projects, and should be #1 but planning is hardly ever as cool as color changing backlighting. When it is all said and done and you've completed your media room, you'll want to use it all the time. In fact, trust me when I tell you, it will be used for more than just watching movies. It can be a place to play board games, video games, talk to friends, and just chill. If you designed the lighting right you will have considered the many other uses the room will have and installed a variety of lighting for all occasions. The best way to ensure you have the lighting you need or want is to plan it out beforehand. Depending on your skill level, this may be the time to involve yourself with a professional. If you're not a professional, don't want to hire one, but still want a professional look, at least draw up what you want and find or consult an electrician or interior design friend (always a good thing to have one of these as a close friend). Your plan will most likely go through a few renditions and there will probably have to be some compromises made to adjust for your resources. In the end, knowing what you want and need, and having a plan to do it will make your resources go further and ensure your home theater lighting is enjoyable and fits your home lifestyle.
Want more lighting design tips?
Our focus is to help you create lighting that enhances your life. If lighting is important to you and you want the latest lighting design tips, tricks, and inspiration, subscribe to our blog below and never miss a beat! [mc4wp_form]