Posted by Birddog Lighting on Nov 10th 2017
Winter is coming! Well, it's pretty much already here in Montana. Outside of our office is a blanket of white. As the holidays approach people all over are getting ready to put up holiday decorations, so we at Birddog Lighting wanted to take a moment to remind you to WEATHER PROOF your lighting if it is going outside.
Most of our lights (LED Rope Lights, LED SMD Strip Lights, regular and neon) are IP65 rated* when properly sealed. Ignoring this step when using your lighting outdoors can cause dangerous short circuiting. Don't let this happen to you!
This is 120v SMD-5050 RGB Color Changing LED Strip Light that did not have a properly sealed end cap. Moisture penetrated the strip light housing and resulted in a short, causing catastrophic failure.


Fear not! There is a simple solution. Seal your linear lighting products appropriately to prevent moisture breaches. We suggest using a versatile weather-proofing heat tape kit that seals any connection you make with lighting accessories (power cords, splices, T, L, Y connectors, controllers, etc.).
Outdoor Shrink Kit Heat Tape Installation Instructions:
Wrap the adhesive lined heat shrinkable tape around your lighting and connector in an overlapping spiral fashion, like you would normal electrical tape. Slide your heat shrink tubing over the lighting, connector, and tape. Shrink the tubing and tape using a heat gun. The adhesive will melt when the heat is applied, and solidify when cooled creating a watertight seal.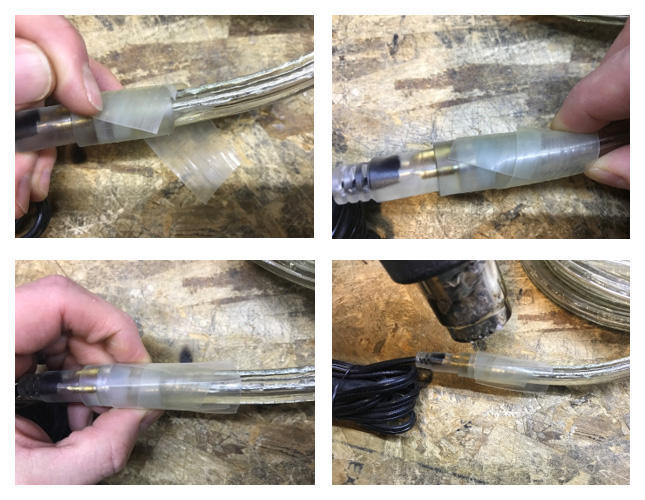 The minimum melting point of the hot melt adhesive is 95*C (204*F). We recommend using a heat gun for proper application. Many hair dryers will not get hot enough to fully liquify the heat tape and you will not obtain a water tight seal.



To ensure the heat tape melts fully, double check to make sure you can't see any lines where the tape overlapped when wrapping it.
*IP65 – Protected from total dust ingress. Protected from low pressure water jets from any direction, limited ingress protection.
Incorrectly installed connections on any 120 volt linear lighting products outdoors can result in a dangerous situation. Properly seal your led rope lights and strip lights to avoid exposure to moisture and you will enjoy many years of safe, care free lighting.