Posted by Birddog Lighting on Nov 8th 2010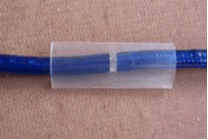 Rope lights are one of the finest lighting options of the 21st century. LED rope lights are flexible, durable and have an average lifespan around 100,000 lighting hours. However, one of the best things about LED rope lights is splicing. This will allow you to use different colors in one stretch, replace specific defunct sections, or extend the length of your rope light. What you would need is a basic rope light splicing kit, pair of good utility scissors, a hair dryer and of course, rope lights.
When you are selecting a strand of LED rope lights that you want to splice, remember to choose something compatible with your existing set. Therefore, if you have a 12 V LED rope light, then you need to select a similar 12 V LED rope light set. Pay careful attention to features such as the type and voltage of your LED rope lights.
Identify the marked line that indicates the point at which you can cut your LED rope light. Depending on the LED rope light, you will come across the line every 18 to 39 inches.
Cut the relevant section of your existing rope light and the other rope light, which you wish to enjoin.
Attach a piece of clear plastic tubing from your splicing kit to the end of the rope light you just cut.
Attach the splice connector to connect both cut rope lights. Simply squeeze both ends together and it should connect without a problem
Push the piece of clear plastic over the part of LED rope light that you just enjoined. Then use the hairdryer to heat the plastic, which will melt over the connection and seal it in the process.
Always keep in mind to unplug your LED rope light before you start splicing it. Also, use a box knife or PVC cutter to make a clean incision through the LED rope light.