Posted by Birddog Lighting on Nov 11th 2011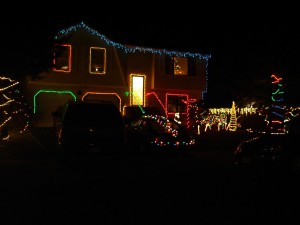 LED rope lights bring about a wonderful lighting effect. One popular location to install your LED rope lights would be along your windows. LED rope lights are very flexible, weather resistant and more importantly, long lasting. There is a variety of options for attaching the rope lights to your windows: hangers, screws and suctions clips, etc. Before you purchase rope lights for your windows, make sure you factor into account the measurement of your window, the background and the desired effect. When installing rope lights for you windows you will need the following tools: An end cap, screwdriver, scissors, corner connectors, power connector and a rope light mounting clip kit.
Attach an end cap over the end of your LED rope light. Then attach the rope light along interior outline of the windowsill.
Use a clip 2 inches from the corner of the window. Then screw through the mounting clip. Keep mounting clips along the side outline of the window. It would be best to attach the clips every 8-12 inches.
Now insert your rope light through the clips. If the rope light tends to be longer than you expected, simply cut out the excessive rope light at a safe point, which would be marked by a silver line or scissor icon.
Now attach the power connector to the power cord. This is done by screwing the two parts together. Once you are done, attach the threaded rope light fastener to the end of the rope light that you just cut. Then, squeeze the power connector in until it fastens. Finally, fasten the threaded cap over the connection
As always, make sure the LED rope light is not connected to any power source before you start work. In addition, since you are installing the LED rope lights in a location that is prone to humidity; make sure you seal all the connections and any incisions properly. This will help ensure your rope lights last longer.