Posted by Birddog Lighting on Nov 16th 2011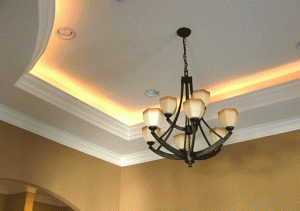 With the New Year settling in, you have two options for your rope lights: store them for a next celebration or for everyday use at home. Rope lights are perfect for indoor use because they have a high-energy efficiency standard, which means you will have lower electricity bills. Furthermore, due to their long-life, they do not require a lot of maintenance either. Since LED rope lights come in a plastic cover, they are durable and flexible, which is perfect for various indoor lighting jobs. Safety will also be covered since LED rope lights have virtually zero chance of setting fire to the house, so long as they are properly installed. The use of clips or other mounting equipment, will allow you to install rope lights in virtually every area of the house, without having to worry about extra installation costs. The best part is that they can be easily installed and removed without major problems. The following are some of the basic indoor decorating ideas for 2011.
Kitchen: LED rope lights are perfect for the kitchen since they can provide the right level of lighting without the extra heat or installation problems. You can install rope lights along the ceiling, or the counter top to provide a soft warm glow while cooking.
Entertainment room: Whether it is your indoor theatre or your TV room, the best thing about LED rope lights is the ambience created, which is perfect for virtually every kind of entertainment setting.