Posted by Birddog Lighting on Nov 29th 2013
An indoor or outdoor pool has amazing potential as a decorative element. However, creating a beautiful visual display featuring a pool seems difficult and expensive. LEDs, however, allow an affordable way for anyone to turn a pool into a constant visual spectacle because of the wide variety of lighting options and colors available. Moreover, the fact that LEDs are highly compatible with digital control systems, allows users to manage their lighting experience in a more seamless manner.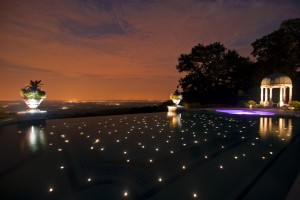 The following are some simple ideas for LED lighting in a pool area. Pool Fences: LED rope lights are perfect to illuminate and brighten up a pool fence. If the fence is made of glass, then all the better, the light would appear as a soft glow. In addition to making things more appealing, this would also enhance safety by clearly outlining the fence. Pool lighting: Imagine different shades of light in the pool, changing based on a sensor or timer. This can easily be done with LED RGB strip lights within the pool to create that soft glow. Add in your choice of controllers and you can create a wide variety of visual effects.