Posted by Birddog Lighting on Nov 19th 2013
Building a pool is a relatively simple affair, at least when compared to actually lighting a pool. These days, simple lighting is never good enough. A pool, especially the indoor type, can be a wonderful element of the house. With the right sort of lighting, it can result in a beautiful spectacle and enhance the entire area of the house or garden. However, sophisticated lighting has always been a problem for standard lighting technology and that is why the best lighting systems require LED.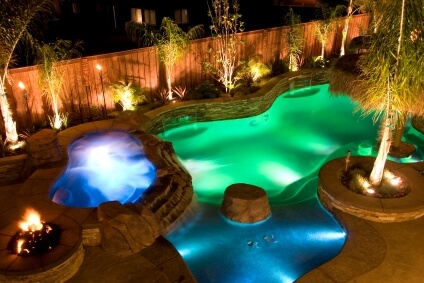 The following are some of the numerous advantages of LED lighting systems. Durability: LED variants such as rope lights and strip lights are generally built to be water resistant. These bulbs are far more durable than standard lighting systems, which is important in wet environments. Environmental friendliness: Even if a large physical force damages the bulbs, virtually no harmful chemicals are released into the pool because LED bulbs are manufactured according to environmentally friendly standards. This is unlike other lighting systems that generally disperse dangerous elements when damaged. Maintenance free: A good quality LED bulb could last for 50,000+ hours. Moreover, LED bulbs require a fraction of the energy required by standard bulbs. These features combine to provide users with virtually maintenance-free use for years.