120 Volt LED Strip Lights
Discover why 120 Volt LED Strip Lights Lead the Pack
120v LED Strip Lights are the go to choice for more an more do it yourselfers and lighting professionals alike. Strip lights produce very bright light, are extremely flexible, can be cut in 19.5" intervals, and are easily customized with a variety of LED strip light accessories.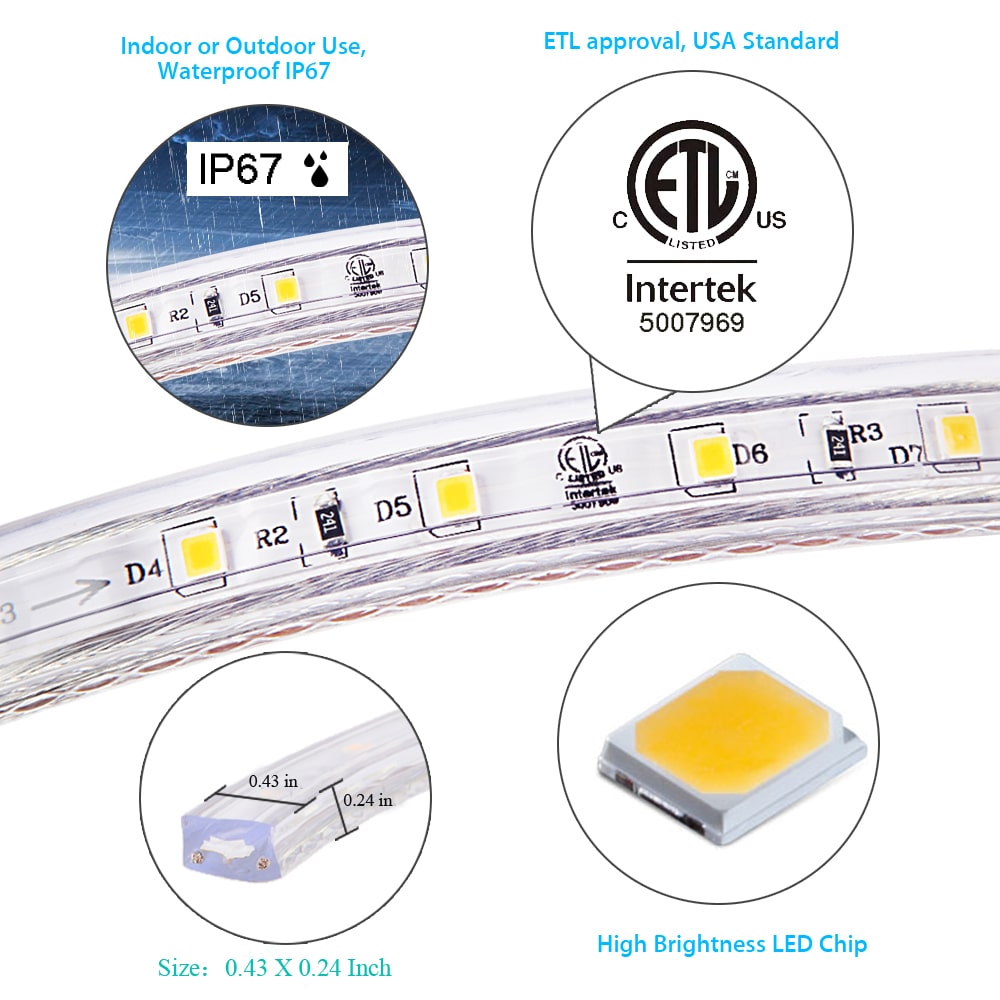 Strip lights are an ideal custom lighting choice for:
Task Lighting
Accent Lighting
Under Cabinet Lighting
Eaves & Soffits
Decks & Patios
Holiday Lighting
Special Event Lighting
Any custom linear lighting project
120 Volt LED Strip Lighting Custom Pre-Cut Lengths
Both SMD 3528 and SMD 5050 options are available in custom cut lengths and can be installed using PVC plastic track or PVC clips. Take the guess work out of it and let our knowledgeable staff cut and assemble your strip lights so they are ready to plug in when you receive them. LED Ribbon Lights are available in eight brilliant colors so getting creative while personalizing your accent lighting project is easy. Encased in a UV resistant PVC coating, 120v LED strip lights are available with an IP44 or IP67 weather resistant rating and are safe to use in both indoor and outdoor applications with proper sealing.
What's the difference between SMD-3528 and SMD-5050? Evaluate the differences below before you make your decision.

120v SMD 3528 LED Strip Lights:
IP44 Water Resistant
60 High Output SMD LEDs per meter
19.5" cutting intervals
1-3 Watts per foot power consumption
6-12 Lumens per LED (depending on color)

120v SMD 5050 LED Strip Lights:
IP44 Water Resistant
60 High Output SMD Tri-Chip LEDs per meter
19.5" cutting intervals
2-4 Watts per foot power consumption
8-15 Lumens per LED (depending on color)